Photo: The Rookie Barkeep
You may have read my
super-long, potentially boring post
on how bourbon gets its unique flavor.
If you didn't, that's cool, because now I'm getting to the fun part – how to actually use that information.
Before we start, I have two ground rules.
First, there's no wrong way to do this. If you drink good bourbon while you're eating good dessert, it's not going to suck.
Second, I'm just some blogger. You're probably going to disagree with some of my choices, and that's okay. Use your own judgement, taste lots of stuff, and come to your own conclusions.
Profile Refresher
Now. Let's start with a refresher on what makes bourbon smell/taste/feel a certain way.
Mash bill: corn – of which all bourbons contain at least 51% – makes for a sweet base. What the distiller does with the other 49% is part of what determines how sweet the final product will be – more rye often means a spicier bourbon, like Booker's, while bourbons that use more wheat in place of the rye, like various Weller labels, tend to retain much of the spirit's sweetness.
Yeast: the yeast used during fermentation often imparts floral, fruity, and/or herbal notes. Some bourbons present more of these flavors than others, with standouts including Four Roses Small Batch and Wild Turkey 81 Proof.
Proof: Generally speaking, alcohol adds spice and heat. There are high-proof bourbons that taste sweet, and lower-proof bourbons that taste spicy, but less alcohol means there's less competing with a bourbon's inherent sweetness.
Barrel and age: much of bourbon's sweetness comes from wood sugar. Higher char to get the chemical reactions going, along with more interaction between the spirit and the wood (either through aging or temperature swings), can contribute to the sweetness of the final product.
Finishing: bourbons finished in sherry or port casks, such as Angel's Envy and Wyoming Whiskey Double Cask, tend to be sweeter with a slightly syrupy mouthfeel, while bourbons finished with additional wood staves, like Makers Mark 46, can layer on more sweetness as well.
Pairing Ideas
And now for the pairings!
1) Weller 12 Year and cherry hand pies
Photo: The Washington Post
The first time I tasted Weller 12 year, it tasted so strongly of cherries that I checked to make sure it wasn't a mixed drink. Between the bourbon and the cherry filling, the flavor is pretty potent, so make sure to balance things out with a scoop of ice cream!
If you don't have any Weller 12 handy, Antique 107 is a fine stand-in.
2) J. Henry & Sons Bellefontaine Reserve Bourbon and Bittersweet Chocolate Mousse with Fleur de Sel
(or Cardinal Chocolates
sea salt dark chocolate bar
if you don't want to cook)
Photo: The New York Times
Don't be fooled by the apparent simplicity of this pairing – this slightly bitter, sea-salt-laced chocolate accentuates J. Henry & Sons' cognac-tinged bourbon perfectly.
A regular reader of this blog may be sick of my obsession with J. Henry & Sons' first finished bourbon... unless you've tried it for yourself, in which case you're also smitten.
Finished bourbons are already in danger of being required to strip the word "bourbon" off their label, and this bourbon is so good, it may be the one that tips the scales. I hope it doesn't happen (from a marketing perspective, if nothing else), but if it does, if this bourbon is "wrong," I don't wanna be right.
3) Blanton's and bread pudding
Photo: Cook's Illustrated
When I was first getting into bourbon, I staked out multiple liquor stores near both house and office, eventually thinking to ask to be put on the stores' magical Blanton's list. Stupidly, I even paid $90 a bottle at a Louisville liquor store prone to gouging unwary tourists. I've since made some decent relationships, and Blanton's isn't quite as hard to come by as it used to be at retail prices, but it's still rarer than, say, Maker's Mark or Evan Williams.
Damn, though, if it isn't worth it. It's a spicier bourbon than I typically like, but the vanilla and toffee flavors round it out in the most delicious way. And when it comes to pairings, all that spice maps brilliantly to the flavors of bread pudding.
It's hard to find a bourbon that
doesn't
go well with bread pudding, but Blanton's and bread pudding is a killer combo.
4) Russel's Reserve 10-Year and crème brûlée
Photo: Serious Eats
This was another tough one – like bread pudding, it's hard to find a bourbon that
doesn't
go well with crème brûlée given the general flavor profile.
Russel's Reserve has all the vanilla and caramel notes that make many bourbons a great pairing, but its creaminess and robust underlying structure go the extra mile in making it capable of holding its own against this dense custard with a torched sugar shell.
5) Special mention – J. Rieger & Co. Kansas City Whiskey and pecan pie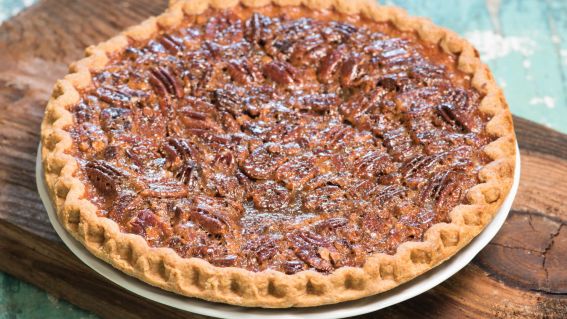 Photo: Genius Kitchen
Why "special mention," you ask? Because J. Rieger & Co.'s Kansas City Whiskey isn't bourbon – rather than merely finishing it in Oloroso sherry casks, they blend some of the fortified wine in.
I have no complaints, people, this shit is delicious. It's got a mild punch of spice, but the brown sugar and nuttiness from the sherry both make this an unstoppable accompaniment to classic pecan pie.
Happy eating!